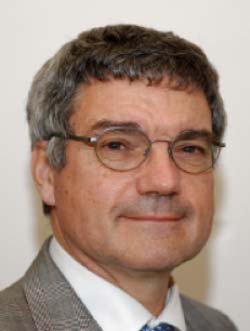 M. Jean-Philippe JAHIER
---
THALES ALENIA SPACE, Director of innovation and deployment of new technologies
---
Jean-Philippe Jahier' careers started in 1981 at "Compagnie Générale de Géophysique", as technical officer for marine seismic survey missions. He joined Aerospatiale in 1984 in a simulation centre featuring real-time, hardware-in-the-loop test benches. Under his responsibility, the missions of this centre were extended at the beginning of the 90's to the development of on-board software for telecommunication satellites.
From 1995 till 1999, within an engineering division, he managed first a department in charge of on-board flight control and electronics , then a multi-skill department in charge of telecommunication satellites design (mechanical, thermal, data handling and flight control , and RF design).
From 2000 till 2004, within a Telecommunication Programmes Division from Alcatel Alenia Space, Jean-Philippe Jahier lead a department in charge of spacecraft platforms architectural design , launch services, mission analysis and early operations.
From 2004 till 2013, Jean-Philippe Jahier managed three consecutive programmes, two for telecom and one for Earth observation. By that time Alcatel Alenia Space became Thales Alenia Space.
From 2013 to mid- 2014 Jean-Philippe Jahier was product manager for S/C platforms at company level ; since mid-2014 Jean-Philippe Jahier has been responsible for the innovation within a competence centre which covers design and industrial activities.